How to Cook Broccoli The Indian Way
Most of us are aware that Broccoli is highly nutritious and cancer-fighting. But, we still hesitate in buying it because we've only seen it in pasta and don't know how to home-cook it, the Indian way.
A formerly exotic and difficult to find vegetable Broccoli (Hari Phool Gobhi) is now quite easily available in India. In fact, you can even grow organic Broccoli at home!
So here's a recipe for you to cook Besan-Broccoli, that can both be eaten with roti and served as a snack!
INGREDIENTS
1. Broccoli – 500 gms
2. Onion – 1 (small piece)
3. Oil – 4 Tbsps
4. Cumin Seeds (Jeera) – 1/2 Tbsp
5. Asafoetida (Hing) – 1/8 Tbsp
6. Garlic (Lehsun) – 1 Tbsp
7. Salt – to taste
8. Chickpea Flour (Besan) – 1/2 Cup
9. Turmeric Powder (Haldi) – 1/4 Tbsp
10. Dry Mango Powder (Amchur) – 1/2 Tbsp
11. Garam Masala – 1/4 Tbsp
12. Coriander Powder (Dhania) – 1/2 Tbsp
13. Red Chili Powder – 1/4 Tbsp or to taste
14. Lime or Lemon Juice – to taste for garnishing
PREPARING THE INGREDIENTS
1. Cut the broccoli florets and wash them well. After this leave them to dry for 10 minutes.
2. Finely chop the garlic or use garlic paste.
3. Finely chop the onion.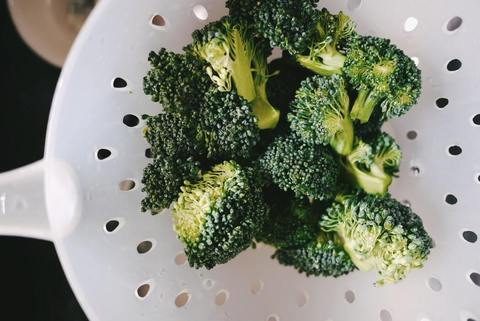 COOKING INSTRUCTIONS
1. Heat 3 Tbsps oil in a pan (medium heat).
2. Add cumin seeds, Asafoetida, Garlic and let them sizzle a little.
3. Add Onions and saute them till they turn slightly golden.
4. Add Broccoli and Salt. Mix all the ingredients in the Pan.
5. Cover the pan and let it cook for upto 10 minutes.
6. Meanwhile, put the Chickpea Flour, Turmeric Powder, Dry Mango Powder, Garam Masala, Coriander Powder and Red Chili Powder together in a bowl. Also, add a pinch of salt and 1 Tbsp oil. Now, mix these ingredients together in the bowl (it'll form a crumbly powder).
ALL-TOGETHER
7. Uncover the Pan, and sprinkle the Besan mixture evenly upon all the Broccoli. But do not stir or mix. Simply cover the Pan again and let it cook for another 5 minutes.
8. Uncover the Pan and sprinkle some water to moisten and bind the flour mixture. Stir and cook for another 3 minutes.
9. Add lemon if it suits your taste.
10. Serve with chapati or as a snack!
I'm sure you can't wait to try this recipe. But wait, how about you sow and grow your own Broccoli? It is one of the best times to plant the cool-weather crop that you can harvest in 65-70 days. Experience the freshness of taste and nutrition of homegrown Broccoli, without any risk of the pesticides. For more details on this, click here.