Healthy Cauliflower Breakfast Recipes for a Nutritious Start
However, this humble vegetable has a lot to offer in terms of both health benefits and taste.
It is a nutritive vegetable and a great source of vitamin C, vitamin K, folate, pantothenic acid, and vitamin B6. It is also a rich source of choline, dietary fibre, omega-3 fatty acids, manganese, phosphorus, and biotin. As far as taste goes, cauliflower isn't and shouldn't be confined to rich and glutinous lunch and dinner recipes.
Here are some healthy, easy and quick breakfast recipes that will make you see cauliflower in a new light.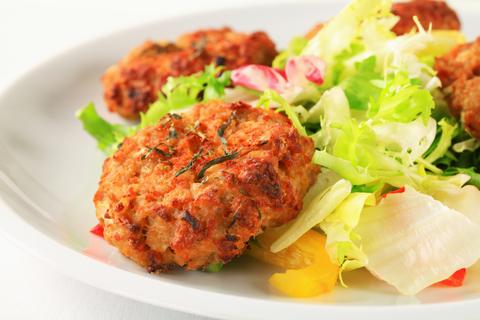 Cauliflower Hash Browns
Total Time: 15 Minutes
All you need: Cauliflower (half), 1 egg, yellow onion (1/2 tsp minced), kosher salt (1/4 tsp), black pepper (1/8 tsp), garlic powder (1/8 tsp), coconut oil (1 tsp), Green onions ( for garnish).
How to make : Grate the cauliflower head and mix it with egg, minced onion, salt, pepper, and garlic powder. Heat 1 tsp coconut oil over medium-high heat and add half the cauliflower mixture to the pan, gently press down with a spatula to flatten. Cook for about 3 to 5 minutes on both sides to let the edges brown and the cauliflower and onion cook through. Garnish with chopped green onion.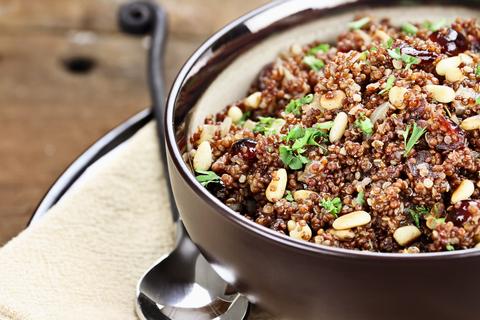 Red Quinoa Salad with Cauliflower & Walnuts
Total time: 20 Minutes
All you need: Red or white quinoa (1/2 cup), Cauliflower (1/2, grated) parsley (1/2 cup chopped and leaves for garnish), olive oil (1/3 cup), toasted walnuts (1/3 cup, chopped), lemon juice (2 tbsp), lemon zest (1 tsp), ground cumin (1/2 tsp), kosher salt and freshly ground black pepper.
How to make: Add quinoa to a large pot of salted boiling water. Simmer and let it cook for 15 minutes. Prep the other ingredients while the quinoa cooks. Drain and return quinoa to the pot. Cover with a lid and let it sit for 5 additional minutes. Fluff with a fork and transfer to a large bowl or sheet pan to cool. Combine cooled quinoa and the remaining ingredients in a large bowl. Season it with salt & pepper and garnish with parsley leaves. Serve cold or room temperature.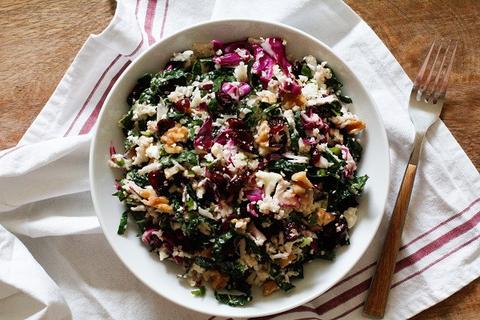 Raw Cauliflower Couscous with Kale
Total time: 15 Minutes
All you need: Cauliflower head(half, grated), red cabbage(2 cups, thinly sliced), tightly packed dino kale (2 cups, thinly sliced), green onion (3/4 cup, chopped), dried cranberries(1 cup), raw walnuts( 1 cup, chopped), olive oil (2tbsp), fresh lemon juice (1/4 cup), ground stone mustard (2 tbsp), Salt and cracked pepper to taste.
Note: you can also use curly kale or Russian kale.
How to make: Rinse all of the vegetables very well and pat dry. Add cauliflower couscous, cabbage, kale, green onion, dried cranberries, and walnuts to a large serving bowl. Whisk together the olive oil, lemon juice, and stone-ground mustard together in a small bowl. Pour it over the veggies and toss everything together well. Serve as it is or with an entree.
These breakfast recipes will ensure a healthy start to your day and create whole new respect for the humble cauliflower that goes beyond 'Gobhi parantha'.